Activate Plenti Offers
Don't miss out on points! Boost your points balance fast with specifically selected offers from Harveys and SAVE! Points can be redeemed for savings at check out, at Exxon™ or Mobil™ gas stations or certain other Plenti partners. Don't forget to sign in to activate offers like these below to start saving today!
Other Ways to Earn Points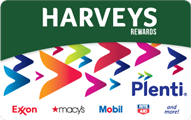 Earn Points Every Time You Shop
Use your Plenti card, and earn points on eligible purchases at Harveys every day. You can also earn points on purchases at other Plenti partners.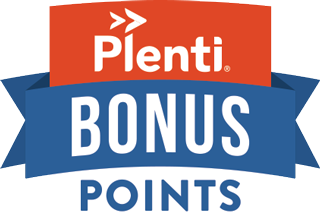 Earn Bonus Points
Watch your Rewards points balance grow with Plenti Bonus Points! Bonus points can be found in our weekly ad, making it easier to earn even MORE points. Be sure to check the weekly ad for the latest bonus point offers or look for the BLUE tags in store!
View Weekly Ad
Redeem Points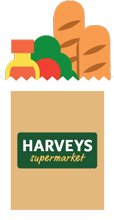 Use Points at Checkout
It's easy to turn Plenti points into savings at Harveys, no matter where you earn them. Simply follow these steps when you're ready to checkout*: 1.Present Plenti Card 2. Select the option to use points 3. Enjoy your savings!*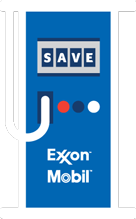 Earn Free Gas and Groceries, when you buy Gas and Groceries
Not only can you use points on your groceries, but you can use points on gas. Use points at any participating Exxon™ and Mobil™ stations. That's a whole lot of savings and a whole lot of happy!*
*Plenti is a rewards program. Terms and conditions apply.Points are based on net purchases of eligible items and do not include excluded items, discounts, coupons, other credits, sales tax and other fees. Eligible purchases earn 1 point per $2 spent. To use points, members must be fully enrolled and have a minimum of 200 points. See plenti.com/terms for details.
Plenti members can earn points and then save on eligible purchases at certain partners (200 pts worth at least $2 in savings). See plenti.comfor details.

Offer has no cash value. Points are based on net purchases of eligible items and do not include excluded items, discounts, coupons, other credits, sales tax and other fees. Members must be fully enrolled to redeem points. Points expire after 2 years. This offer is provided by Harveys Supermarkets. Harveys Supermarkets is solely responsible for the quality and availability of the product/service and any accompanying claims, and Plenti is not affiliated with Harveys Supermarkets or any product offered by Harveys Supermarkets. Offers are non-transferable and reproduction is prohibited. Additional Terms and Conditions apply to the Plenti rewards program, www.harveyssupermarkets.com/plenti. Participating partners and offers are subject to change without notice. All Rights Reserved. All trademarks are property of their respective owners.

Plenti card or Plenti registered phone number must be presented at time of purchase. Offers may not be combined. You cannot earn Plenti points for: taxes, tobacco, Harveys gift cards, all bank variable and reloadable cards (Visa, MasterCard, American Express), reloadable, and prepaid debit cards such as NetSpend & Green Dot, money orders, postage stamps, event tickets, lottery tickets, or, in certain locations, alcohol. You must be 21 or older to redeem alcohol offers. Offer not valid in AL, LA and MS. You cannot use Plenti points for alcohol in GA, NC and SC. You cannot earn Plenti points on prescriptions paid for in whole or in part by any state or federal health insurance program, including Medicare and Medicaid, or where prohibited by law. You cannot use Plenti points on prescriptions. Offer expires at 11:59 PM on a given date. Points are typically credited to your Plenti account within 30 days. Offer void where prohibited by law.
* Multiplier Offers- Eligible purchases can earn [multiplier] Plenti points per $2 spent.
* Single Use Offers- Purchases must be made in a single transaction on eligible items.